Manufacturer & Exporter of Cables, Wires & PVC Conduct Pipes.
| | | | |
| --- | --- | --- | --- |
| An ISO 9002 Company Kalinga, Established in 1975 are manufacturers & exporters of quality Cables & Wires. | | | |

Lan / Structural Cables

Kalinga SLS Gold
brings to you LAN cables best suited to your specific Applications. These are certified by the world renowned under writers Laboratories Inc. USA (UL). The Cables are verified to the performance category 5/5e requirement to TIA/EIA 568 - A & UL 444 for Transmission performance.
Kalinga SLS Gold
Lan cables are suitable for Voice, Data, Video and Low Voltage Control, it is suitable for all Lan topologies including Horizontal and Vertical distribution plenum and Riser.
The conductor is made of Electrolytic plain annealed solid copper of size 0.5 mm, High quality Polyethylene Insulated with suitable colour code, twisted pair, Unshielded light grey PVC jacketed with improved fire characteristic meeting requirements of IEV -332- high oxygen and temperature index.
The UL ISO - 9001 certification ensures the quality of cables and its intended performance.
Salient Features

Low attenuation and crosstalk

Low Structural return Loss

UL Verified cables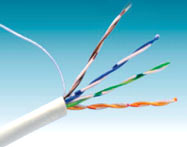 Technical Data - Physical
1.
Conductor
Solid Bare Copper
2.
Nom Dia of Cond.
0.5 mm.
3.
Colour Code
Pair - 1 White - Blue
Pair - 2 White - Orange
Pair - 3 White - Green
Pair - 4 White - Brown
4.
Outer Jacket
FR PVC
5.
Nom Overall Die
5.4 mm
6.
Packing
Reflex Box 1000 ft (305 M)

Technical Data - Electrical
Frequency MHz
Attenuation db 100 M (MAX)
Next Worst Pair db MIN
Structural Return Loss (SRL) db MIN
CAT-5
CAT-5e
0.772
1.8
64
64
N.A
1.00
2.0
62
62.3
23
4.00
4.1
53
53.3
23
8.00
5.8
48
48.8
23
10.00
6.5
47
47.3
23
16.00
8.2
44
44.3
23
20.00
9.3
42
42.8
23
25.00
10.4
41
41.3
22
31.25
11.7
39
39.3
21
62.50
17.0
35
35.4
18
100.00
22.0
32
32.3
16

Parametric Characteristics
| | | |
| --- | --- | --- |
| 1. | D.C. Resistance @20ic (Max) | 9.38 W / 100 M |
| 2. | Capacitance Unbalance pair to Ground (Max) | 330 pF / 100 M |
| 3. | Mutual Capacitance (Max) | 5.60 nF / 100 M |
| 4. | Characteristics Impedance | 100 ± 15 W |
| 5. | Nominal Velocity of Propagation | 66% |
| 6. | Delay Skew (Max) | 45ns |
| 7. | Propagation Delay @ 20 ic, 100MHz | 538 ns / 100 M |